BRIEF INTRODUCTION
The Department of Orthopedic Surgery provides state of the art treatment in all fields of Orthopedic Surgery including Trauma and Accident Surgery, Spine Surgery, Joint Replacements, Pediatric Orthopedics, Shoulder Surgery, Sports Medicine and Arthroscopy
. The department is headed by Professor Raju.K.P with a spirited and committed team of senior and associate consultants providing expert surgical care. The Department of Orthopedics with its two state of the art operation theaters equipped with laminar airflow and advanced equipments.
It is a busy clinical working unit striving to achieve academic excellence from the time of its inception, presenting its work in various national and international conferences which have won many accolades. The Department has been recognized for the Post Graduate training in the field of Orthopedic Surgery by the Medical council of India and NMC in the fields of spine surgery, trauma care, limb reconstruction, joint replacement and arthroscopy . The Department of Orthopedics is also equipped with Skill lab, Museum, Orthotic and Prosthetic Centre with high end Physiotherapy etc. which will be helpful in training Post graduate residents.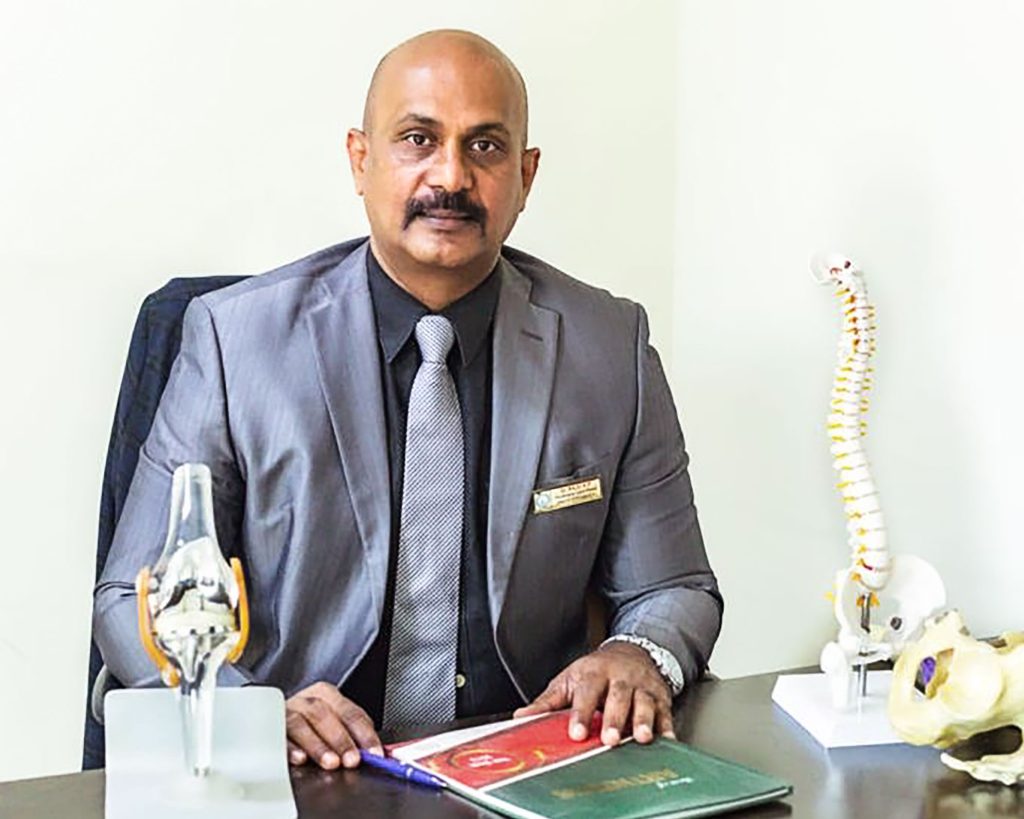 Raju.K.P
Professor
Department of Orthopedics
Facilities and Services
OPD Services: Department of Orthopedics is providing daily Out Patient services since the beginning of the institution. The number of patient attending Out Patient Department (OPD) is increasing every day. Consultation by specialists in all fields of Orthopedics is available on all working days. We are well equipped to perform all out patient procedures on OPD basis like closed reductions of fractures and dislocations, pop application, deformity corrections and all other minor procedures.
Speciality clinic s are conducted and alloted each day of a week for each speciality which are as follows –
* Monday – Fracture Clinic
* Tuesday – Spine Clinic
* Wednesday – Arthroscopy Clinic
* Thursday – Arthroplasty Clinic
* Friday – Hand Clinic
* Saturday – CTEV Clinic
In-Patient Services: The department is providing in- patient care to patients requiring admission either for surgical intervention or conservative management. The department has the facility of operating on all the days of a week. The myriad of surgeries done are trauma with fractures fixation, Hip & Knee Replacement, Reconstructive surgery for Bone tumors, corrective surgeries for spastic children and other Pediatric limb deformities, Arthroscopic Joint surgeries, spine surgeries.
We cater both undergraduates and post graduate students by conducting regular teaching programs, research activities including recent advances.
Weekly and monthly audit is conducted regularly in presence of all members of the department regarding trauma cases and surgeries performed.