BRIEF INTRODUCTION
Anatomy as practiced today is vibrant and exciting meld of clinical anatomy, neuroscience, developmental and reproductive biology, genomics and biological anthropology. The Department of Anatomy is committed in making major contributions to basic medical sciences.
The Department here hosts a Lecture Hall, a Histology Lab, Dissection hall with a depository of prospected specimens, well maintained cadavers in cold storage facility, embalming facilities, demonstration rooms for osteology classes and small group tutorial discussions. The departmental Library consists of adequate books for the study references of the students; the department Museum where specimens both dry and wet are neatly arranged. The cleanliness is always maintained and is under observation by our trained museum curators.
The Department aims to excel and has an incremental role in several outstanding developments in the field of Genetics, Museum based learning and 3D multimedia projector teaching program.
Students will discover here a dedication to maintain high standards in both education and research and thereby utilize the wealth of resources for career aspirations
To educate the students to reach their educational objectives the staffs are exposed for additional training experience like medical education, Curriculum Implementation Support Program, doing research works and publications.
Department also has voluntary body donation program for education and research purpose.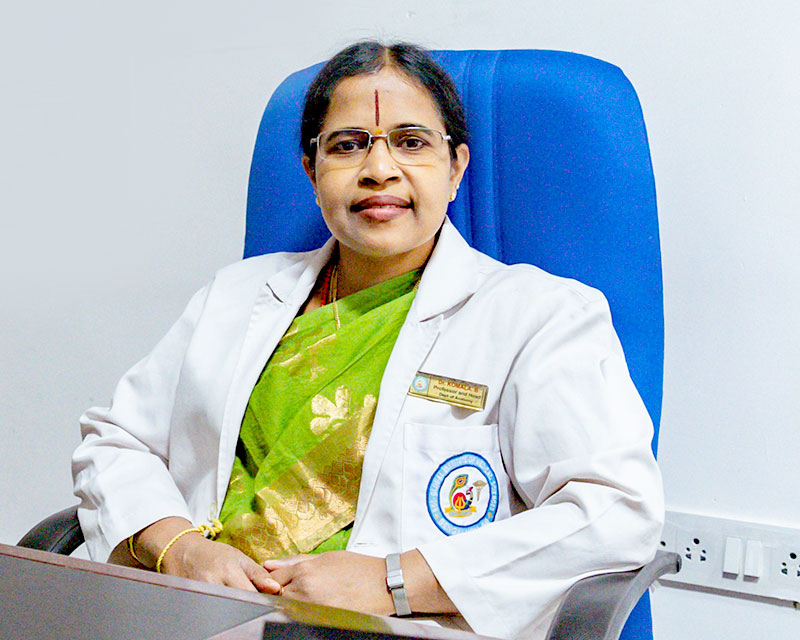 Dr. Komala. B
Professor and Head
Department of Anatomy