BRIEF INTRODUCTION
The Department of Pathology functions to provide excellence in Diagnostics, academics, and research.
Our Specialities:
Hematology and clinical pathology Laboratory is fully equipped with state of art, fully automated hematology analyzers, Coagulometers, High Performance liquid chromatography for diagnosis of hemoglobinopathies and thalassemia and caters to clinical workups for anemias, Bone marrow aspiration and biopsies, bleeding and thrombotic disorders, Diagnosis of leukemias, cytochemistry and immunohematology based automated blood bank services.
Cytopathology service includes exfoliative, squash, imprint, scrape, liquid based cytology and intervention cytology including cell block study; and clinical pathology services.
Histopathology service laboratory is fully automated and well equipped with state of art equipment including grossing station, automated tissue processors, paraffin embedders, microtomes, stainers, cryostat and multi-headed (penta and deca head) microscopes with special stains and Immunohistochemistry panel for further work up.
The Department actively participates in regular, multidisciplinary meetings held all through the year, conduct several CMEs and provides exhaustive teaching material for Undergraduates, Postgraduates and Medical Laboratory Technology students.
The Department of Pathology is NABL trained and committed to rapid turn-around time, affordable testing and superior customer service.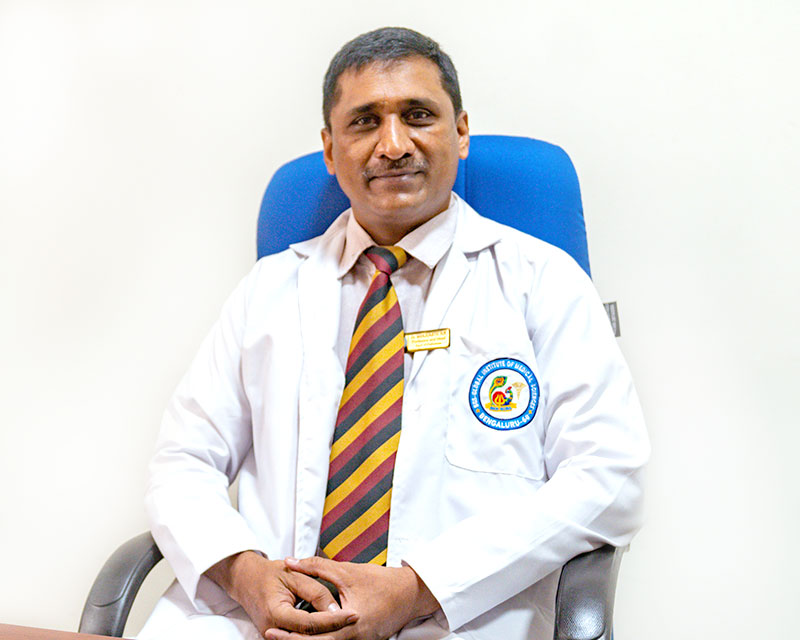 Dr. Manjunath H. K.
Professor and Head
Department of Pathology