World Hearing Day Celebration – 03/03/2022
Department of ENT & HNS, BGS GIMS In Association with SGS Vagdevi Centre for the Rehabilitation of Communication Impaired.
On Occasion of World Hearing Day on March 3RD 2022, a scientific seminar was held in SGS Vagdevi centre for the rehabilitation of communication impaired. Professor & HOD, Dr. Srinivas V, Department of ENT, BGS GIMS delivered a talk on the significance of newborn hearing screening and the importance of early detection followed by timely intervention and rehabilitation. He spoke about cochlear implantation followed by auditory training & speech therapy. Other dignitaries who grace the occasion included Smt. K S Lathakumari, IAS, Director, Dept. of Empowerment of differently abled & senior citizens, Dr. Vishwanath Bhat, Sri Ravindra Bhat, Mr. Chitaranjan, Smt. Nagapoorima. An old student of the SGS Vagdevi centre, P Prajwal currently pursuing B. E in computer science in RV college was presented with Dr. Shantha Radhakrishna Endowment award. Press report of the above event in Prajavani ( Kannada Daily) Newspaper has been enclosed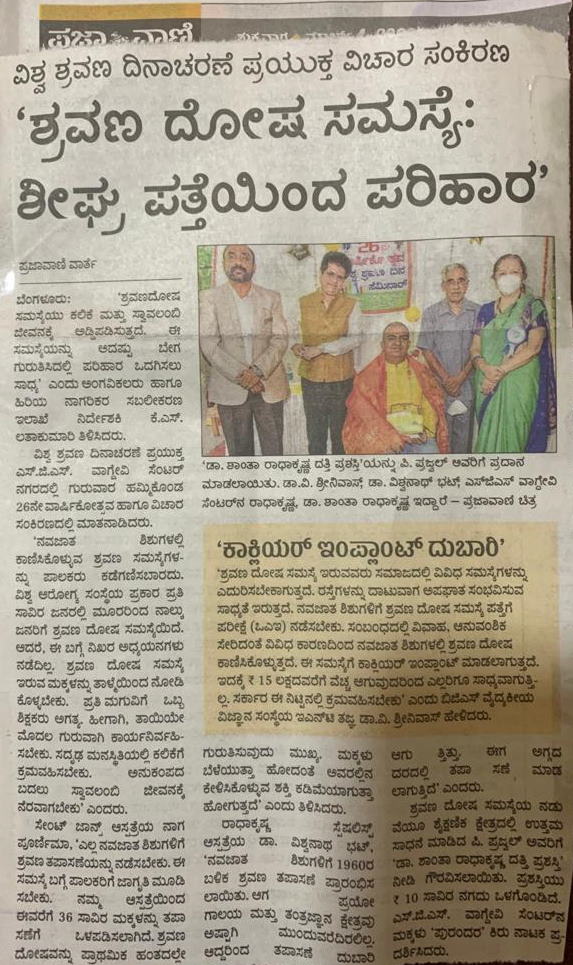 .