BGS Global Institute of Medical Sciences (BGSGIMS) affiliated to Rajiv Gandhi University of Health Sciences (RGUHS) has been established to impart quality medical education and spawn dedicated healthcare professionals for services in the society. The institute is equipped with state-of-the art classrooms and ultra-modern laboratories to create a conducive environment for teaching, learning and patient care. The Institute inculcates some of the most progressive teaching and learning techniques to both students and teachers. Highly advanced and innovative methods that impact the quality of medical education and also the lives of people who seek medical attention are formulated through various avant-garde programs.
The courses offered by the institute are contemporary and duly approved by the Medical Council of India (MCI).
College Ref No: MCI-34(41)(E-62)/2013-MED/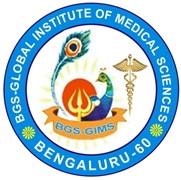 Vision
"To be recognized as a centre of excellence providing quality medical training and comprehensive health care in a socially responsible manner".
Mission
"To educate and inspire individuals to be passionate and compassionate physicians and exemplary leaders in the field of medicine with sensitivity to the needs of the community."