BRIEF INTRODUCTION
Department of Oto-Rhino-Laryngology is committed for the comprehensive care of patients presenting with ear, nose and throat ailments.We are also committed academically, to impart adequate knowledge and training to our students (undergraduates & postgraduates) by demonstration, observation and assisting various OPD procedures and operations.
Our vision is to cater to the society and students in an exemplary manner.
Our mission is to create interest in undergraduates to pursue ENT branch and put the best ENT specialist to the society by comprehensive training of our postgraduates.
Our Outpatient department is equipped with state of the art equipment's for patient evaluation & treatment:
Nasal Endoscopy, monitor visualization and recording
Laryngeal (Voice box) endoscopy, monitor visualization and recording
Microscopic examination of ear
Advanced ENT workstations for all faculty
Complete Audiology Services including Pure Tone Audiometry, Speech Audiometry, OAE and ABR, New born hearing screening, Impedance studies.
Voice and Speech therapy.
Regular Specialty clinics covering Allergy, Vertigo, Head & Neck cancers.
Routine & Advanced Surgeries performed:
Pediatric adenoidectomy & Tonsillectomy
Adult Tonsillectomy
Nasal septal surgeries
FESS and advanced FESS (with Storz endoscopes, Stryker camera & monitor, recording software, Medtronic Microdebrider)
Coablation assisted ENT surgeries (Adenotonsillectomy, nasal & laryngeal surgeries, Sleep apnoea surgeries)
Micro ear surgeries for deafness, infections and tumors (Carl Zeiss microscope with camera, monitor and recording)
Micro laryngeal surgeries for voice and speech problems
Head & Neck surgeries including laryngeal, pharyngeal, nose & sinus cancers, thyroid surgeries and other benign neck surgeries
Emergencies like trauma to nose, face, temporal bone, facial nerve, neck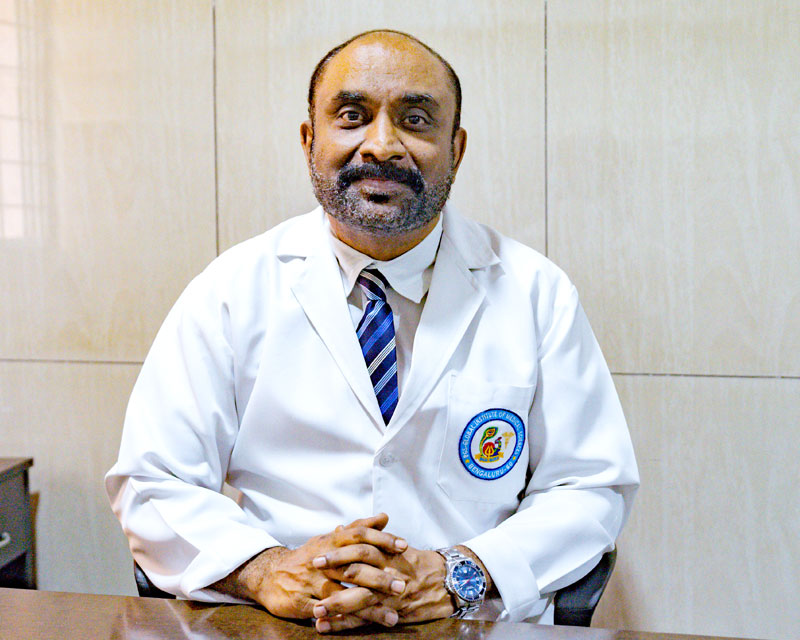 Dr. Srinivas V
Professor and Head
Department of Oto-Rhino-Laryngology