EXTRACURRICULAR ACTIVITIES- 2023
| | | |
| --- | --- | --- |
| Sl No. | Date | Event |
| 01 | 18.08.2023- 20.08.2023 | Ganesh chaturthi celebrations |
| 02 | 15.08.2023 | Independence day, 2023 |
| 03 | 21.07.2023 | 8th International Yoga day, 2022 |
| 04 | 12.04.2023 | Convocation Day 2023 for 4th batch of MBBS students and Decennary celebrations |
| 05 | 14.12.2022 | Freshers day 2022- 9th batch MBBS (UG) , 3rd Batch PG |
| 06 | 24.11.2022 -25.11.2022 | 14th BGS Founder's Day & BGS UTSAV 2022 & Inauguration of BGSGIMS Library & Information centre & Advanced Skills Lab |
| 07 | 14.11.2022 | Kannada Rajyotsava & Children's day celebration |
| 08 | 20.10.2022- 21.10.2022 | Kreedotsava 2022 |
| 09 | 19.10.2022 | Vaibhav 2022 – Finale |
| 10 | 14.08.2022- 19.10.2022 | Vaibhav Fest 2022 |
| 11 | 15.08.2022 | Independence day, 2022 |
| 12 | 21.07.2022 | 8th International Yoga day, 2022 |
| 13 | 01.07.2022 | Doctors Day, 2022 |
| 14 | 5.04.2022 | Freshers day 2022- 8th batch MBBS(UG), 2nd Batch PG |
| 15 | 30.11.2021 | Sports day 2021 |
EXTRACURRICULAR ACTIVITIES- 2022
| | | |
| --- | --- | --- |
| Sl No. | Date | Event |
| 1 | 14.12.2022 | Freshers day 2022- 9th batch MBBS (UG) , 3rd Batch PG |
| 2 | 24.11.2022 – 25.11.2022 | 14th BGS Founder's Day & BGS UTSAV 2022 & Inauguration of BGSGIMS Library & Information centre & Advanced Skills Lab |
| 3 | 14.11.2022 | Kannada Rajyotsava & Childrens day celebration |
| 4 | 20.10.2022- 21.10.2022 | Kreedotsava 2022 |
| 5 | 19.10.2022 | Vaibhav 2022 – Finale |
| 6 | 14.08.2022- 19.10.2022 | Vaibhav Fest 2022 |
| 7 | 15.08.2022 | Independence day, 2022 |
| 8 | 21.07.2022 | 8th International Yoga day, 2022 |
| 9 | 01.07.2022 | Doctors Day, 2022 |
| 10 | 5.04.2022 | Freshers day 2022- 8th batch MBBS(UG), 2nd Batch PG |
| 11 | 30.11.2021 | Sports day 2021 |
Student Achievements & Awards
GOMECON 2022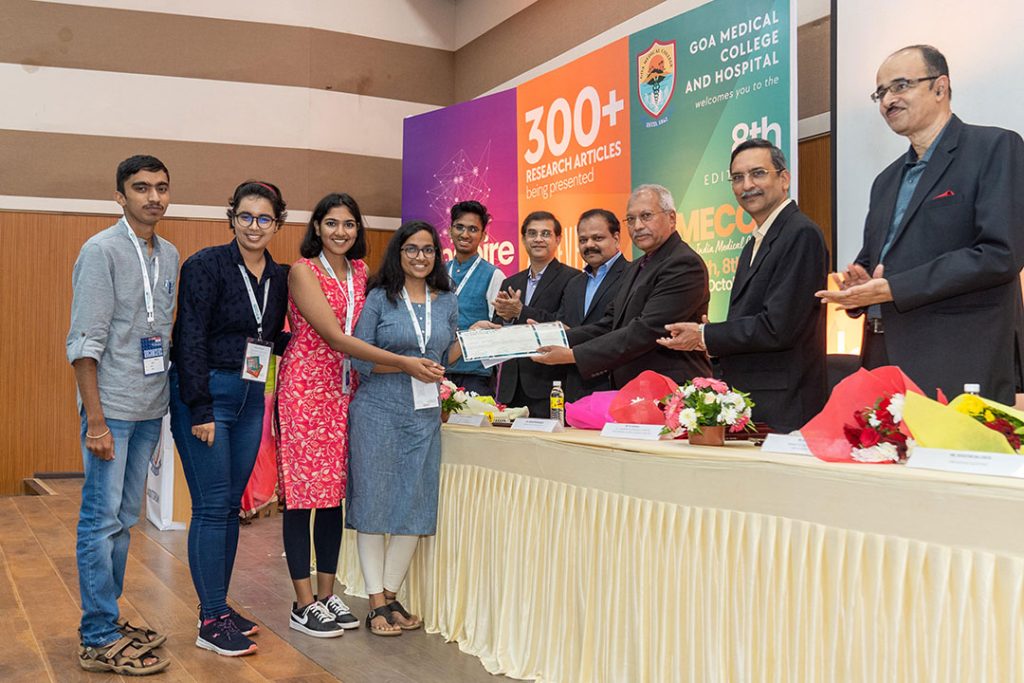 Doctor's Day – 2023
Report by: Dr. Ashwini G. S., Dept. of Community Medicine, BGS GIMS
Doctor's Day 2023 was observed at BGS GIMS on 1st July. Doctor's Day – a day dedicated to recognize and honor the contributions of doctors and other frontline medical staff towards mankind. A doctor's profession is not just a career but a divine calling to serve humanity. Dedicated, compassionate, unwavering in their commitment, doctors truly make this world a better place, which became more pronounced and evident ever since Covid-19 pandemic hit globally. Every year Doctor's Day is celebrated to commemorate the birth and death anniversary of Dr. Bidhan Chandra Roy, a visionary doctor, educator, freedom fighter, social worker and a politician. With this introductory note, the program began. Blessings of Poojya Gurus and almighty were sought, by rendering an invocation song by Ms. Manoghna and team. The event was attended by the entire team of doctors of BGS GIMS, at College Lecture Hall 1 between 11:30 pm -1pm. The master of ceremony for the event was Dr. Ashwini G.S., Asst. Prof., Dept. of Community Medicine, BGS GIMS.
Our Dean cum Principal, Dr.M E Mohan, addressed the gathering, wherein he highlighted the achievements and contributions of Dr. BC Roy towards medical profession and society. He concluded saying that Dr. BC Roy believed that youth of India would determine the future of India. The current and future generations should draw inspiration from such great soul and practice following principles of Ethics.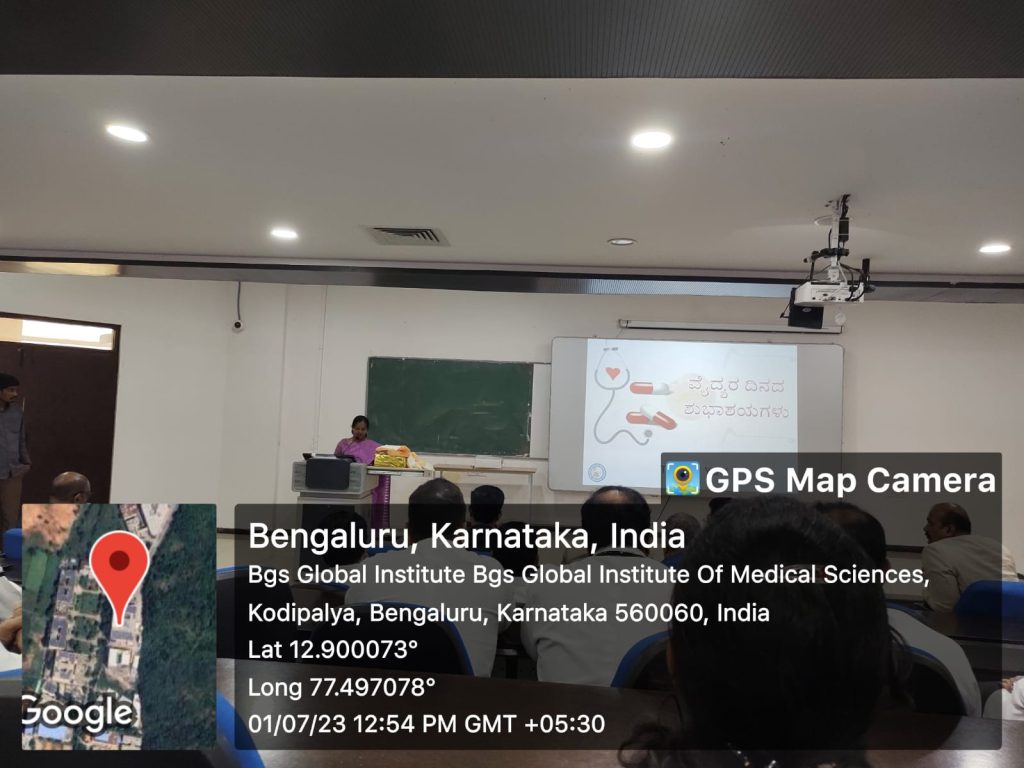 After this Dr. Lavanya S.H., Associate Professor, Dept. of Pharmacology, briefed on the advantage and disadvantages of National Exit Test (NEXT) for Undergraduate students.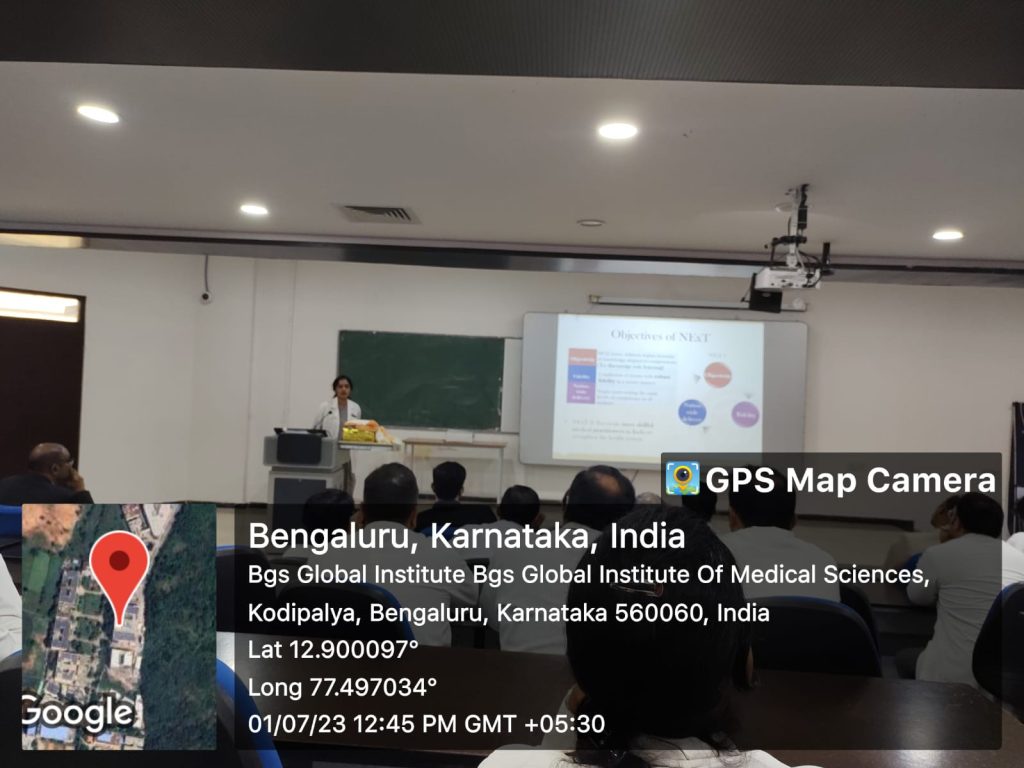 The entire event was sponsored by Orra, Fine Jewellery Private Limited. Mr. Saif, representative from Orra, shared few words and expressed gratitude towards doctors on the eve of Doctor's Day. Finally, the event was concluded by ceremonial caking cutting by Dean Sir, which was joined by the Heads of all the Departments. This was followed by snacks and high tea.